Our high quality directory provides you with a highly targeted opportunity to get in front of potential new customers looking to have an app developed by a specialist that has experience in designing and developing healthcare apps, medical apps and also medical device apps.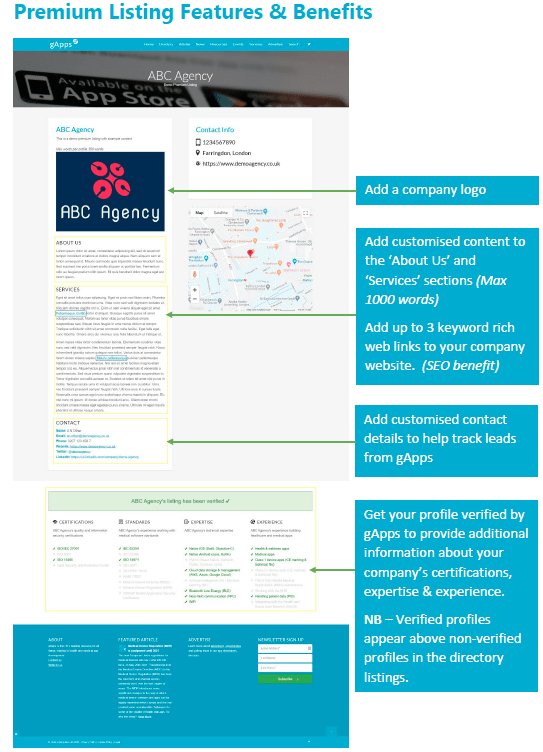 The benefits of a premium listing:
Enhanced visibility in the directory search results. Our directory pages list Premium listings before all free profiles listings.
15% discount on other advertising opportunities with gApps.
The opportunity to get 'verified'. Our directory pages list verified companies before all non-verified Premium listings. As a result, your company will receive more visibility across all relevant pages on gApps if you are verified. Plus it will also make it easier for any potential new client who is looking for an app developer with specific experience, certifications and expertise to find your business. Verification is a benefit of being a premium listed company on gApps.
Premium Listings & Verification Features & Benefits (PDF document)
If you would to purchase either a Premium listing and learn more about getting verified then get in touch.
To add your app development agency to the gApps directory, please complete the form below and your details will be checked by one of our team first and then added to the directory if you meet our inclusion criteria.
If you would like to be considered for a free listing then get in touch.
No.
1
on Google UK
For the key phrases:
"medical app developers"
"medical app development"
"medical app development companies"
"healthcare app developers"
"healthcare app development"
"healthcare app development companies"
How are the directory search results ranked?
Results are ranked in alphabetical order.
However, Premium listings will appear above the free listings and verified companies will be listed above all non-verified profiles. As a reminder, getting your company verified is a benefit of having a Premium listing on gApps. So if you've purchased a Premium listing and have had your company verified then you will appear above all free and non-verified Premium listings.
My company has more than one office location, can I list each one separately?
No, your company can only have one listing in the directory. However, if you purchase a Premium listing you will be able to add multiple office locations.