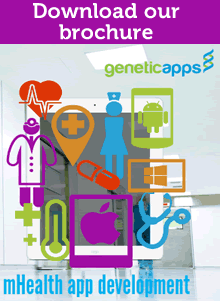 Our approach to building your health or medical app starts with our wireframing and user interface stage. This involves producing storyboards which help to visually demonstrate key features like navigation and showing where functionality, such as buttons and other tools are required.
The next step involves producing a mock up version of the finished design – where the wireframe is your blueprint showing the structure of each page, the user interface design allows you to see how the finished pages will look on a particular device.
Once this process has been signed-off, we then move onto the engineering and production phase. During this phase our programmers begin coding the app. Any integration with software or systems (such as APIs, Web-services, databases, patient information systems like EMIS or SystmOne etc.) are also implemented by the development team during this stage.
The final stages in producing a fully functioning app involve user testing, compliance checking (including MHRA compliance testing and CE Marking) and installing app analytics to help you track usage levels.
View our case studies and app development portfolio
App Prototyping
If you are in the early stages of creating your app and need to test the concept first or obtain funding then we can offer an app prototyping service, which is cost-effective way of visually showcasing your idea as it does not involve building a fully functioning app. The prototype will help you to more easily demonstrate the features and functionality of your app idea. Learn more.