We launched an app that carries the CE Mark and conforms to the EU Medical Device Directive 2007/47 EC for Rosemont Pharmaceuticals who are now registered as a Class 1 device manufacturer. The MHRA have recently released guidance on what constitutes a medical device for apps but this guidance was unavailable when we took this client through the process and this is what we learned.
Understanding the directive
I can't remember the number of times I read this document picking out key details that were relevant to the development of standalone software. Although there was nothing directly relating to apps there are clear references to how software combined with, or independent of a device should be classified and therefore the level of compliance that needs to be achieved.
Understanding if your app would fall into the category of a medical device
The MHRA recently released their guidance on medical device stand-alone software (including apps)7  and it helps to clarify which types of apps should be classified as medical devices. It still requires developers to understand the implications of the EU Medical Device Directive but helps to identify through the use of words and phrases which apps could be classed as medical devices.
"Decision support or decision making software that applies some form of automated reasoning, such as a simple calculation, a decision support algorithm or a more complex series of calculations, eg dose calculations, symptom tracking, clinicians guides. These are the types of software most likely to fall within the scope of the medical devices directives."
Testing and risk assessment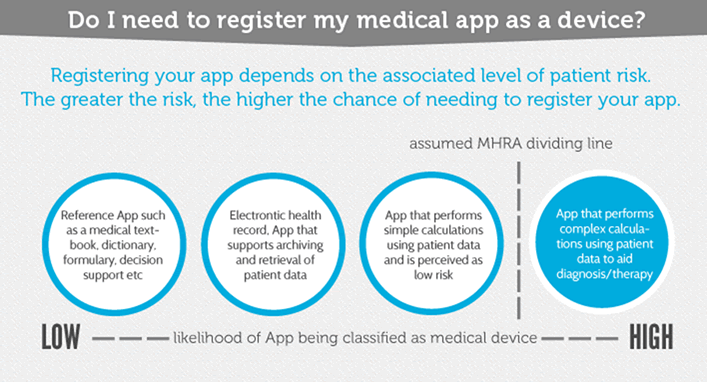 A rule of thumb for understanding if your app needs to be compliant is if the results produced by using the app could potentially harm a patient e.g. a dosage calculator then it should undergo the necessary compliance procedures to ensure it complies with the EU Medical Device Directive. Part of this process is to thoroughly test the app across different devices, platforms,  audiences and specific functionality built in to it to demonstrate that it works as it should, producing expected results. This will form part of the risk analysis necessary for completing the document of conformity.
The registration
Once this process has been completed the application can be made to the MHRA which requires an accompanying payment of £70.00 (as of the date of writing this 15/04/2014). The application should take between 14 and 21 day to process at which point the company will receive their registration number and only after that point can the app carry the 'CE' mark to prove that it has full regulatory backing and will demonstrate that the app reaches all the necessary standards laid out by the EU.
App store submissions
To ensure you get submissions approved quickly, it's really important to submit the app to iTunes Connect under the correct developer account ensuring all your meta data is completed as fully as possible and providing any references that you feel reviewers will benefit from seeing. Tripping the 'reject' status can lead to weeks of delays and once that's happened it appears that Apple will scrutinise each further submission with a fine tooth comb. Google Play is far simpler by comparison and will take far less time to submit and approve before publishing.
Supporting Documents
https://www.geneticapps.co.uk/wp-content/uploads/2014/04/rosemont.jpg
255
707
Russell Hughes
https://www.geneticapps.co.uk/wp-content/uploads/2016/04/ga-logo-bw.png
Russell Hughes
2014-04-16 09:32:29
2015-04-22 13:52:40
What we learnt from taking an app through compliance & CE Marking